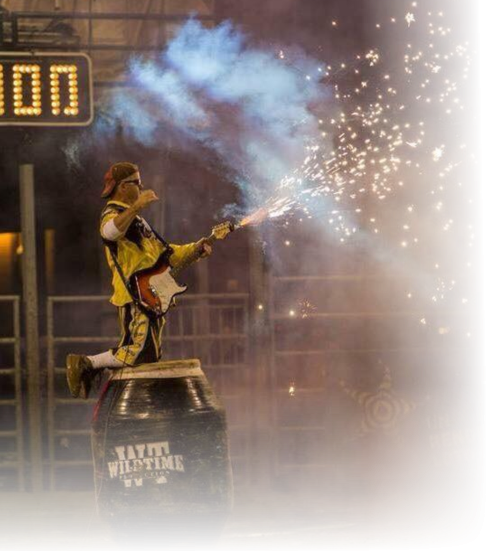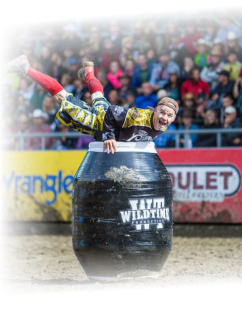 2010 Wrangler National Finals Rodeo (WNFR) Barrelman

PRCA Clown of the Year Nominee: 2006, 2008, 2010

Coors Man in the Can Nominee: 2011, 2012, 2013, 2014, 2015, 2016
Rockin Robbie Hodges is the guy you want in your arena, your press room, your truck, your trailer, your house, and your family. Within 5 minutes of meeting Robbie, chances are, you already feel like family. He knows no stranger. Not only is he the most sought after professional barrelman in our in industry, he is known as one of the funniest men in the professional rodeo arena today. He knows what a rodeo crowd is looking for in a performance....entertainment. From walking the arena and meeting fans to showcasing some of the most hilarious clown acts, Rockin' Robbie Hodges will have any crowd wanting more after the last bull bucks! No matter what age!
2010 Wrangler National Finals Rodeo (WNFR) Barrelman

PRCA Clown of the Year Nominee: 2006, 2008, 2010

Coors Man in the Can Nominee: 2011, 2012, 2013, 2014, 2015, 2016

PRCA Comedy Act of the Year Nominee: 2008, 2010, 2011

Ram Southeast Circuit Finals Rodeo Barrel Man

Ram Great Lakes Circuit Finals Rodeo Barrelman

2011 Alternate WNFR Barrelman

2015 Bull Fighters Only Bull Fights Finals, Las Vegas

2016 PBR Bull Fighting Barrelman